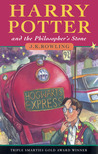 Harry Potter and the Philosopher's Stone by J.K. Rowling
My rating: 5 of 5 stars
My goal was to try and review this as impartially as possible, re-reading the series over a decade after I fell in love.
That impartiality lasted a chapter? Perhaps two.
I can't do it, and I don't care.
Harry Potter was so important to me growing up, and I'm happy to say that a re-read only strengthened my memories instead of dashing them.
We read this with our Goodreads book club, so check that out for more detailed discussion (and join us for future reads!). A few of my thoughts:
I am amazed at how much is packed into less than 300 pages. Think of everything that happens in this book, and how short it is. Coming from someone who usually reads fat fantasies, the shock is even greater.
I've yet to see a YA that even comes close to the same level of writing and story skill.
Actually, even some of the genre novels I read have something to learn. J.K. Rowling provides a tiny seed of world-building, and lets your imagination fill in the rest. My impression of Hogwarts is exponentially more than what was actually written in the book.
I also seriously wonder how much Rowling had planned, and what is actually foreshadowed. We picked up on a lot of hints throughout that we definitely missed as kids.
Harry Potter, you were a constant companion in my formative years, and it's good to have you back.