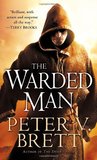 The Warded Man by Peter V. Brett
My rating: 1 of 5 stars
Some books just don't speak to you.
The Warded Man was one of those books for me. It's unfortunate because I have heard a lot about it, and like the author from what interviews I've heard from him.
But I don't know, the characters and world didn't really captivate me.