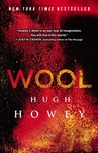 Wool Omnibus (Silo, #1) by Hugh Howey
My rating: 4 of 5 stars
This self-published sensation is all the rage on the internets these days, so of course I hopped on board.
(Full disclosure–this review won't deal with any of the controversy surrounding the author. Chuck Wending explains it more eloquently here.)
Wool earned a solid 4 stars. Not less, because I have to admit that it was gripping. It's a quick read; Howey's pacing makes the book impossible to put down. There are enough twists, turns, and mysteries that Wool is a book that is not read, but devoured.
However, for my own personal tastes, this book didn't have enough world-building. I'm a fantasy guy (and specifically epic fantasy). I like it when it seems as if authors are only telling us 10% of what they know, as if the secondary world they invented is a real place. I want to feel as if the author spent hours fiddling with little details like maps, currency, and dialects. Even if we never see it.
I agree that what makes a great story are solid characters, but having an original and compelling backdrop completes the experience for me.
Wool fell a little short in that regard. It was an incredibly fascinating premise, but I would have liked to read a bit more on the intricacies of Silo culture.
Aside from that, a solid dystopian tale.
Read for the May 2013 Sword & Laser bookclub pick.