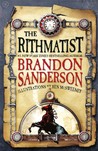 The Rithmatist by Brandon Sanderson
My rating: 5 of 5 stars
I loved this book so much I finished it in a day. Unfortunately I also loved it while having chilli, so now my copy is stained. Good thing it's only an ARC.
The premise is simple: imagine a kid attending a magic school, except he's only there because his mom is the cleaning lady. He can't actually practice.
(view spoiler)[Thank you thank you thank you Brandon, for not having the protagonist learn to use magic by the end of the book. (hide spoiler)]
The Rithmatist is a fun read similar in many ways to Harry Potter (the last great YA I read). The pacing was spot on, so was introducing the world and the magic system. I was immediately hooked and couldn't put it down until the final pages.
Of course, the magic is superb. Do we even have that doubt coming into a Sanderson novel anymore? It's fascinating enough that the info-dumps disguised as doodles between chapters are actually something you look forward to (and look very much like an actual doodle Brandon did when inventing the magic).
Though, it's the little things that make Brandon one of my favourite authors. Things that are never explained, but still litter his stories. In this case: steampunk. Does it have any impact on the story? Minimal. Can you tell how much fun the author had letting his imagination run wild? Oh yeah.
In typical YA and Sanderson style, everything ties up neatly in the end, but it was rewarding and perfectly satisfying.
The ending was a solid place to wrap up the book. Enough closure for a stand-alone, with opportunity for a sequel that I'd be looking forward to.
I'm telling you, if you're a Sanderson fan: pick this up. If you're not, I wouldn't say this is truly representative of his style, but is a worthwhile read in any case.