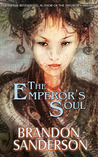 The Emperor's Soul by Brandon Sanderson
My rating: 5 of 5 stars
Who would have thought Sanderson could write such a short story? And so well too?
Continuing my way through reading all of his published work, this was not a disappointment.
It was short, and yet had everything it needed for a complete and gripping story.
Intriguing characters, (another) awesome magic system, a vivid world.
It's short, costs only a few bucks on Amazon, and is well worth your time.