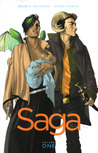 Saga, Volume 1 by Brian K. Vaughan
My rating: 5 of 5 stars
Space fantasy at its finest!
Saga is unlike anything I've ever read before. I can only slightly compare it to what Star Wars must have been like to experience when it first came out. Seeing all these crazy aliens and ships and characters. A whole world you never knew about, testing the boundaries of your imagination.
This is a brilliant start to a graphic novel I will be eagerly following issue by issue.
The first issue is free on Comixology, so please please please give it a try. Superb artwork, incredible characters and dialogue, utterly astounding world building, what more could you ask for?