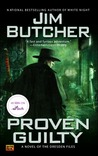 Proven Guilty by Jim Butcher
My rating: 4 of 5 stars
Lots of big reveals in this book! As always, a fun ride, but this one had the bonus of adding gravity to the Dresden universe.
Also, I love Jim Butcher's double climaxes, with a long denouement. Not what they teach you in writing class, but it works quite well here.
My one word theme of this book would be Pride.