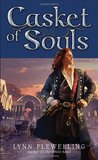 Casket of Souls by Lynn Flewelling
My rating: 5 of 5 stars
Truth is, I missed Lynn Flewelling's writing.
Casket of Souls came out earlier this year, and I can't say why I waited so long to rejoin Seregil and Alec in their adventures.
This one gets 5 stars because it again touches upon my favourite part of the series: when the two of them are burgling and solving mysteries within Rhiminee. It's quite reminiscent of the first two Nightrunner books, and had me hooked throughout.
Again, Flewelling does an incredible job with court intrigue, but also with description and dialogue. She takes it slow, and why the pace might not agree with some, I sure liked it.
Now I've read all of her novels, and I can safely say that I'll pick up her next release in a heartbeat!
If you like thievery, clever characters, and a healthy dose of good-natured humour, Casket of Souls is for you.
Of course, if you've read this far, you probably already like this series, don't you?