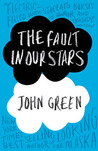 The Fault in Our Stars by John Green
My rating: 3 of 5 stars
Someone handed this to me on the plane, and I had heard of it, so I said why the hell not and gave it a go.
It's a page-turner for sure, which I finished in one sitting since it's such a short book. An easy read that's conversational enough in tone and structure that you power right though.
However, it definitely was one of those books like The Hunger Games where you never feel as if anything will more will be gained by a re-read. The author held nothing back, as if they just sat down and wrote the book without thinking about it first or developing any sort of backstory.
I'm used to world-building, and while I wasn't expecting the same level of it here as in Fantasy, the lack of it was a huge turn-off.
It makes me realize why so many people I know are shocked when I tell them that I re-read books. If I read stuff like this more often, I probably wouldn't re-read much either.
There were more than a few out-of-character remarks that felt like the author waving his hands and yelling "look how clever I am!" It's not so much a novel as John Green sitting across from himself and having a conversation.
In conclusion, do it if you have a few hours to kill and someone hands it to you, but don't run to the bookstore because it's really not that great of a book.